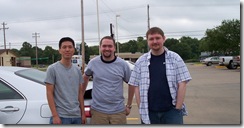 Nashville devLink Recap
One of the most interesting things about being a software developer is to see the entire undercurrent and subculture of the industry.  It really makes it more visible at the local geek gatherings, regional and national conferences.  This year I felt extremely fortunate to have been offered an opportunity to speak and help at the Nashville / Murfreesboro devLink conference.  I honestly hadn't intended on going due to the 9 hour travel required, but when my good friend John Kellar reached out, how could I refuse?  So David Mohundro, Michael Johnson and myself made the long trek.  (David and Michael belong to the Fort Smith .Net User Group)
I may not ever be a rock star, but I definitely was treated as one!  Thursday night started out with the VIP dinner for speakers, volunteers, and contest winners.  The food was terrific, the conversation entertaining, and the activities a blast!
Free stuff is always cool, and the picture to the left shows just a few things we were given as speakers.  A huge plaque made of pure chocolate that bore the conference name "devLink", a thank you card, a Barnes & Noble gift card, and a Speaker Badge.  I was given a very cool football jersey for helping direct traffic, which also bore the conference name.
Opening festivities, were finished off by a Microsoft sponsored poker tournament, hosted by the Heartland region developer evangelist Jeff Blankenburg.  I finished 3rd and won a cool laptop backpack.  Fellow South Central region influences & MVP, Tim Rayburn, finished 4th.  I am happy to say I did avoid hotel room 112!  Although I heard it was a blast from those that went, with guitar hero, real guitars, cigars and plenty to drink being key points of interest.
Other highlights … 

I got thrown out of the speaker room for making too much noise by the Deep Fried Bytes crew, they were recording for their podcast (not completely accurate, but hey, it makes for a good story).
John Kellar and the rest of the devLink crew, puts on a darn good event!
I participated in the recording for DotNetRocks during the Saturday night after party!
Open Spaces was a huge hit, lead by Alan Stevens
Had a terrific time meeting and talking with Billy Hollis
The Heartland Microsoft Developer Evangelist crew is an awesome bunch!
I graduated from the same high school that the devLink Secretary Leanna Baker did, small world eh?
My session that I spoke at was in the main hall (picture right), fortunately I didn't have that entire crowd
Pictures and other Postings about devLink 2008!
My Pictures - http://www.flickr.com/photos/vonlar/sets/72157606987908831/
http://picasaweb.google.com/DotNetJesus/DevLink2008
http://www.flickr.com/photos/sadukie/tags/devlink/
http://www.flickr.com/photos/29955965@N06/sets/72157607063383359/
http://telerikwatch.com/2008/08/devlink-2008-wrap-up.html
http://www.misfitgeek.com/The+Importance+Of+Community+Driven+Events+DevLink+OH+WOW.aspx